Hello, I should simulate a 2 material target like in the figure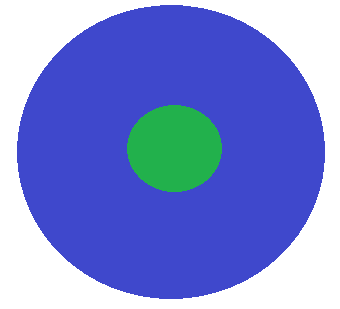 it' s a circular target, the inner (Green) part is made in Be (or C) and the outer one (blue) in other material.
I know how to build it because I can make it using the G4bool with 2 G4tubs ie.
G4Tubs* InnerTub;
G4Tubs* OuterTub;
G4VSolid* TargetSolid; 
G4ThreeVector position(0,0,0);

InnerTub = new G4Tubs("InnerTub",  0, 0.25*cm, 1.5*mm, 0., 2*pi); 
OuterTub = new G4Tubs("OuterTub",  0, 0.75*cm, 1.5*mm, 0., 2*pi); 
TargetSolid = new G4IntersectionSolid("TargetSolid", OuterTub, InnerTub, &identity, position);

My problem is to assign the material, because when I build the logical volume
G4LogicalVolume* logicEnv;   
logicEnv= new G4LogicalVolume(TargetSolid, TargMat, "Target"); 

it assign the material "TargMat" to all the solid…instead I need only one logical volume but made of two differents material…How can I do it?
Thank you