Hello Everyone!
I am taking a cylindrical tank in Geant4 filled with Gd+Water and shooting a neutrons from all sides of the wall of tank and i want to see how deep into the water one particular neutron can go until it gets captured. Now i have x,y,z coordinates of neutrons inside the water but i am not sure how will i find it's distance from the wall.
My idea was to save the position coordinates of the neutron when i was at the wall of the tank and then subtract them form the coordinates of neutrons inside the water tank when it get captured and calculate the distance between them.
So, to save the position of neutron at the wall what i tried so far is to check the first step in water volume i.e. step->IsFirstStepInVolume() and then i saved position from its PrestepPoint as can be seen in the figure. I am saving these x,y,z coordinates as vectors of float.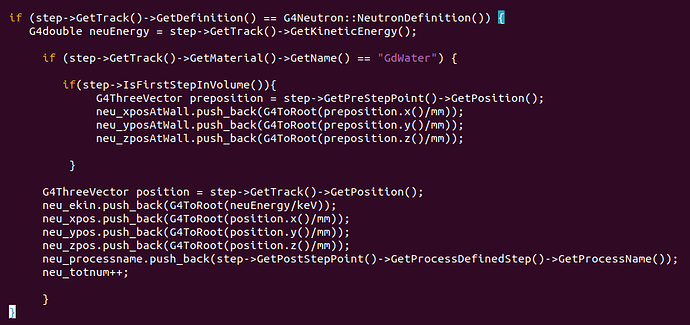 But the problem is that i can't subtract "neu_xposAtWall" from "neu_xpos"(Neutron-X position in water) because neu_xpos is the vector of values whereas neu_xposAtWall is saving only one value. You can see its Screenshot below.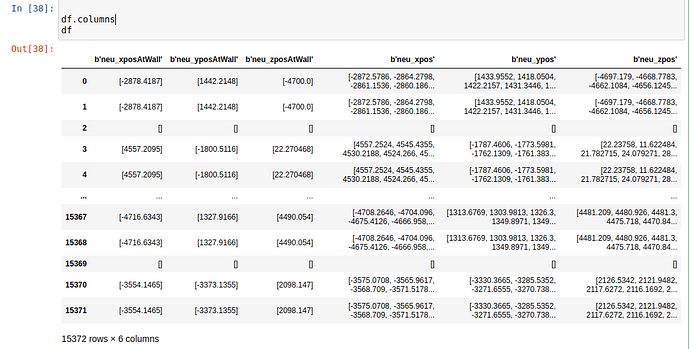 Now I am also wondering if i am using correct approach to track one particular neutron from start to until it gets captured. It would be really appreciated if someone can help me with this problem or have a better idea for it. I shall be very thankfull.
Have a nice day!
Cheers,
Khushbakht