Greetings Geant4 Forum Users! I'm glad to be here.
I have been investigating different ways of simulating photon particle behaviours, and I recently stumbled upon the Geant4 program, and it capture my interest.
I'm a begginer with Linux/Unix, and I installed Geant4 on my Windows 10 machine.
I built the solution using Visual Studio 2019 Community Edition (in "Release" mode, as building it in "Debug" mode gives a library limit error). I followed this tutorial for Windows installation: Building and Installing from Source — Geant4 Installation Guide 11.0 documentation, and this tutorial for post-installation setup: Postinstall Setup — Geant4 Installation Guide 11.0 documentation. I "sourced" the installation by simply running the "geant4.bat" file from the Command Prompt.
To verify that I installed the program correctly, I wanted to build & run one of the basic examples, "B1". However, I have been running into some issues, and wanted to see if I could get some guidance in the correct direction for fixing the issue;
Upon attempting to run the "cmake" command inside the "B1" example folder inside the "share" folder, I get the following: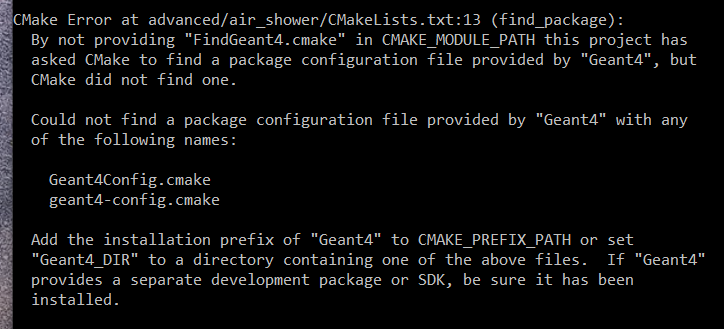 I'm very confused as to why I'm getting this, as I thought that my Geant4 installation would be "sourced" already, but obviously I must have made a mistake somewhere along the way, and I want to correct it. I'm a begginer when it comes to things like these, and always open to learning!
Thank you in advance for reading my post, any guidance is greatly appreciated!