Please fill out the following information to help in answering your question, and also see tips for posting code snippets. If you don't provide this information it will take more time to help with your problem!
_Geant4 Version:_11.1.2
_Operating System:_macOS Sonoma (Version 14, MacOSX14.0.sdk)
_Compiler/Version:_Apple clang version 15.0.0 (clang-1500.0.40.1)
_CMake Version:_3.27.6
_QMake Version:_3.1 (Using Qt version 5.15.10 in /usr/local/Cellar/qt@5/5.15.10_1/lib)
---
Hi all,
Based on my experience, almost every macOS huge update makes some small compiler errors, so I was ready to handle this. However, this time is a bit weird for me. I am not sure that the problem below would be from macOS Sonoma or something else.
The "geant4-v11.1.2" source file in my /usr/local/Geant4/source directory was successfully built without any errors during each step, including "ccmake," "make," and "make install." However, upon attempting to execute "exampleB1," I encountered the following error messages: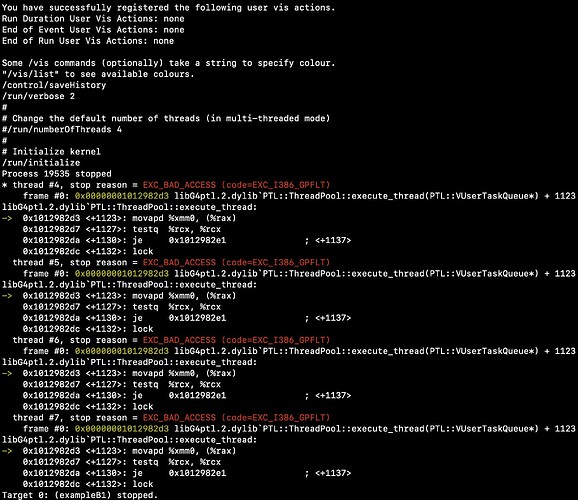 I've already ruled out permission issues by applying "chmod -R 777" to the directories. Could this problem possibly stem from threads, version mismatches, or PTL file issues?
I believe this to be a minor issue. Would you be able to investigate and provide some insight into resolving it? Your assistance is greatly appreciated. Thank you.