Hi, We recently bought an HPGe detector in our lab and we were trying to compare the experimental efficiency with the one provided by the manufacturer software (ISOCS) and the one simulated in Geant4.
So I first made the geometry of our detector thanks to the manufacturer plan and at the beginning I just stored the energy deposition (if the Edep by step was > 0.6eV) in my crystal (minus the dead layer).
I made it for a punctual source of 152Eu at 1 meter : I recovered the efficiency at each peak and compared it to the one given by ISOCS and Geant4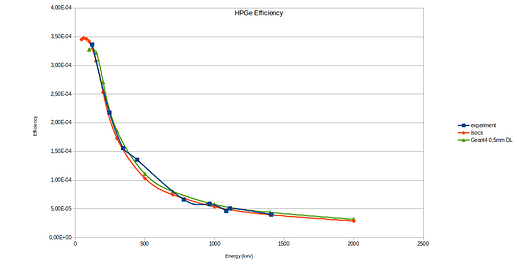 As you can see, the results were quite close (deviation < 1%).
As it worked for a punctual source, I tried with a surface source (Cs137) consisting of a square surface (10x10cm) where the source was uniformly placed and covered by a thin layer of aluminum (about 0.3mm).
I made 2 measurements: one at 4mm from the entrance and one at 40cm during 30 and 60 minutes and reproduced them in ISOCS and Geant4.
And this is where the problems start:
At 40cm I get a deviation of about 3.9% with Geant4 and 5.6% with ISOCS for the efficiency (compared to the experimental result).
But at 4mm it gets worse: I have a deviation of 42% with Geant4 and 16.5% with ISOCS.
I tried to add the integration time in the simulation (Edep is stored if the time of the step minus the time of the first energy deposition is less than the integration time (about 1µs)) but same result.
/gps/pos/type Surface
/gps/pos/shape Square
#detector surface at 22.1mm 
/gps/pos/centre 0. 0. 26.1 mm
/gps/pos/halfx 5. cm
/gps/pos/halfy 5. cm
/gps/particle gamma  
/gps/ang/type iso
/gps/ene/type Mono
/gps/energy 661.7 keV

If anyone have an idea about this I will be glad to hear about it !
Thank you,
Thibault
---
_Geant4 Version:_11-00-patch-03
_Operating System:_Ubuntu 20.04.6
---