We found that the behavior of Geant4 changes depending on whether the USolids/VecGeom option is enabled or not. In particular, generating surface points via calling GetPointOnSurfaces() for G4Tubs solids is affected by this. The following two issues have been seen:
VecGeom provides its own implementation of SamplePointOnSurface(), which Geant4 calls into from GetPointOnSurface() when USolids is enabled. It turns out that the VecGeom version of G4Tubs chooses points by using r = random(rmin, rmax). This produces a flat distribution in r and not in the area which goes as r². As a consequence the density of random surface points is larger for small radii which causes a bias towards the center of a cylinder's face. In Geant4's definition of G4Tubs this issue has been resolved long ago (version G4-9.6). We confirmed the difference for both G4-10.06.p03 and G4-10.07.p03 with and without USolids. The plots below illustrate the difference for G4-10.07.p03.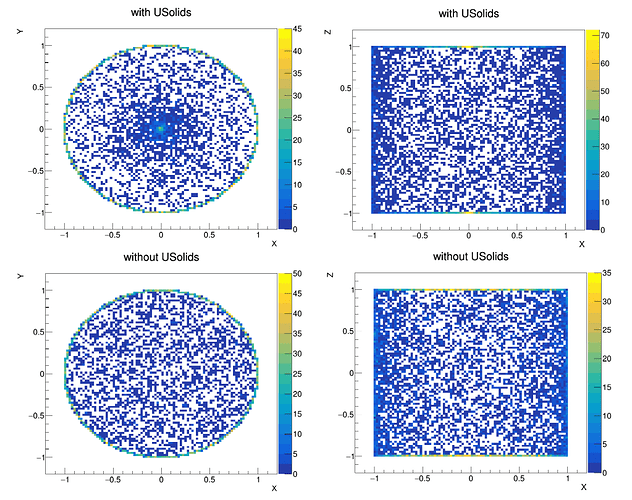 VecGeom does not use the CLHEP random engine, but instead calls the standard C++ rand() function. This is done without doing any seed initialization, so every job will get exactly the same sequence of random points from VecGeom calls. This also means that the Geant4 interface for initializing the engine or getting the engine state does not affect VecGeom at all. There are alternative random engines in VecGeom (e.g. by making use of CUDA), but the issue of overriding Geant4's default random engine remains the same.
Attached is a simple example demonstrating the call of GetPointOnSurface() to create N random points on the surface of a G4Tubs solid. The example was used to visualize the plots of 10k surface points displayed above. When executed multiple times with Geant4 using USolids, the same sequence of random points is created ignoring the initialization of the Geant4 random engine.
surfacePoints.cc (1.6 KB)
We are concerned that these issues, combined with the fact that the main LCG installation of Geant4 make use of the "experimental" USolids feature, could be affecting a broader community of Geant4 users. We have also submitted a bug report to the VecGeom developers here.