Hello everyone,
I have the simulation model of linear accelerator and it includes CAD interface (Poole CM et al.) and Phase Space interface (Cortés-Giraldo MA, Capote R et al.). I was normally able to use the model during MacOS Ventura with Xcode 14. Following the MacOS Sonoma upgrade, I installed GEANT4 easily and be able to run the examples of GEANT4 but my simulation model could not be run. While compiling, it gives me some warnings such as "vsprintf is deprecated" but it also gave them while using it in MacOS Ventura. Following the compiling process, it generates executable file to run the simulation. When I try to run it, it begins to invoke the simulation parameters but It suddenly crashes and it is terminated. I really don't understand what is the problem with it but I guess I could be the ARM processor or rosetta 2 interface.
Basic system prefers at below:
Processor: M1 Chip
RAM: 16 GB
SSD: 256 GB
MacOS: Sonoma (14.0) (Homebrew is used for installing necessary libraries of GEANT4)
Xcode: Version 15
I would appreciate if anyone has any idea to help me about it. If you need any other information I can provide it.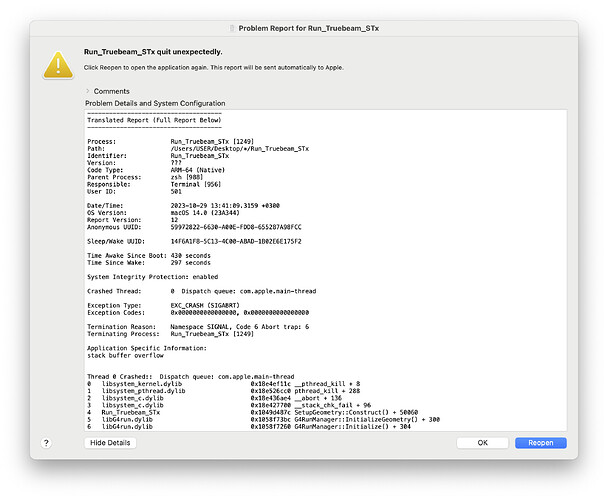 Thank you in advance,
Oguzhan