Dear friends,
I am trying to use the multi-union solid (g4 version 10.6.2, macOS), but I am finding some likely-buggy behaviour in the overlap checking functionality. Overlap checking seems to work fine for conventional Union (finishing in a very reasonable length of time), but hangs badly when using multi-unions (even with a completely equivalent solid), with occasional warnings of the following style:
 Checking overlaps for volume R3_lv_PV (G4MultiUnion) ... 
 -------- WWWW ------- G4Exception-START -------- WWWW -------
 *** G4Exception : GeomSolids1001
issued by : G4BooleanSolid::GetPointOnSurface()
 Solid - Sub3_B49_e_R3_zone4
 All 100k attempts to generate a point on the surface have failed!
 The solid created may be an invalid Boolean construct!
 *** This is just a warning message. ***
 -------- WWWW -------- G4Exception-END --------- WWWW -------

Now to convince you that there is indeed a problem I attach two GDML files describing two equivalent geometries (with extension .txt as I am forbidden from uploading .gdml by this forum's configuration) that demonstrate this difference in behaviour. If you do a diff of these two files you can clearly see that they are identical except for the use of multiunion in one and conventional binary union in the other (similarly if you visualise they are indeed same solid). Running overlap check on r3-union.txt terminates and passes quickly, and r3-multi-union.txt does not terminate, and occasionally emits the kind of warnings noted above. The diff: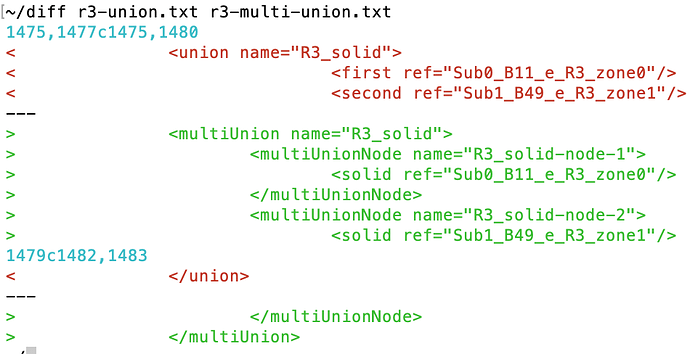 So my question to the experts here is why is there a difference in the behaviour, where overlap checking with multi-union hanging indefinitely and binary union is OK for the attached file? Is this is a bug or is there some undocumented behaviour relating to multi-unions that affects the way the algorithm works? Naively this should not matter, if I understand how it works then it will just pick a node of the multi union at random and then pick a point on the surface of that node. So why the problem?
Thank you for your help.
Kind regards,
Stuart
r3-multi-union.txt (50.7 KB) r3-union.txt (50.6 KB)