Hi, I'm working on neutron induced fission simulation, I used BIC_HP physics model. ( GEANT4 10.02 )
Geometry is very simple, I used Uranium-238 target, larger than beam size, thickness 0.5 umT, and neutron beam with various energy ( 10 ~ 40 MeV, mono energy )
I scored number of total fission event and I found total fission event suddenly drop over 19.9 MeV neutron energy.
I compared my result with ENDF data.(attached file).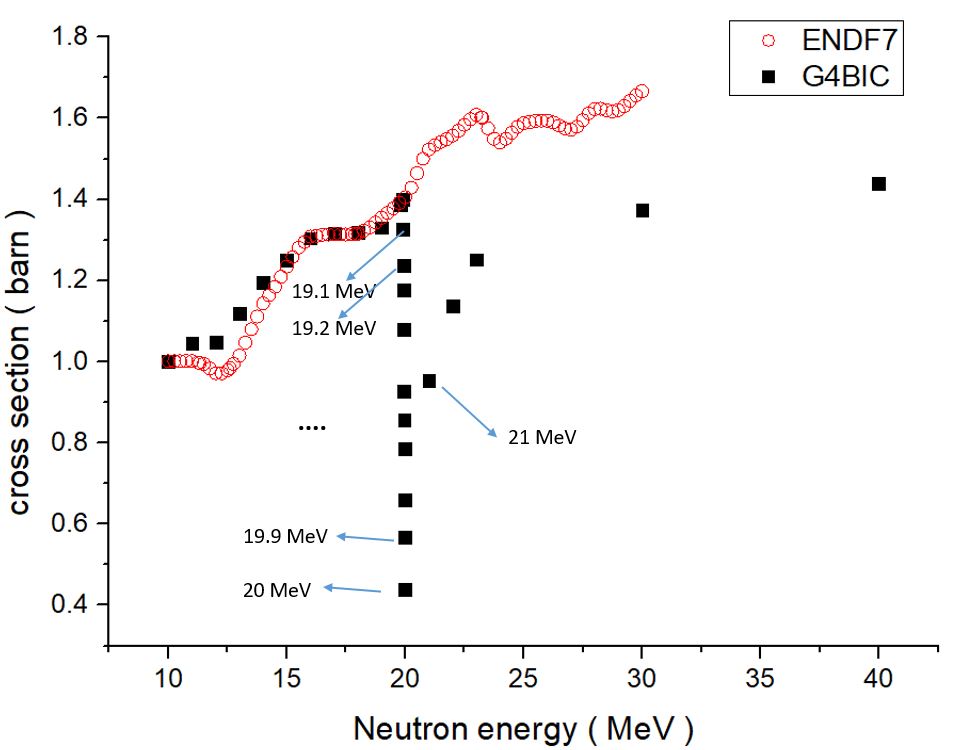 GEANT4 cross section result was drawn in proportion to the number of total fission events. ( I matched 10 MeV results with ENDF data for normalization )
At energy range 10 ~ 19 MeV looks good but GEANT4 result suddenly drop at 19.9~20 MeV energy range.
Maybe something problem between 19.9 ~ 20 MeV energy range, If I didn't mistake.
What can I try at this problem?
This is nFission process for my simulation.
Hadronic Processes for neutron
Process: nFission
Model: NeutronHPFission: 0 eV —> 20 MeV
Model: G4LFission: 19.9 MeV —> 2.88022e+295 J
Cr_sctns: NeutronHPFissionXS: 0 eV —> 20 MeV
Cr_sctns: GheishaFissionXS: 0 eV —> 100 TeV
Thanks in advance,
MOON