Hi everyone, I'm building a scintillator on my simulation and I added a reflective skin to it's surface. I'm trying to use a scoring mesh to represent the SiPM I'll use to measure energy deposition in the crystal. the problem I have is that the whole surface of the scintillator is reflective, therefore when the scoring mesh is touching the scintillator surface I get these errors:
-------- WWWW ------- G4Exception-START -------- WWWW -------
*** G4Exception : OpBoun06
      issued by : G4OpBoundaryProcess
G4OpBoundaryProcess: Opticalphoton step length: 7.84205e-09 mm.
This is larger than the threshold 1e-09 mm to set status StepTooSmall.
Boundary scattering may be incorrect. 
*** Step size warnings stopped.

*** This is just a warning message. ***
-------- WWWW -------- G4Exception-END --------- WWWW -------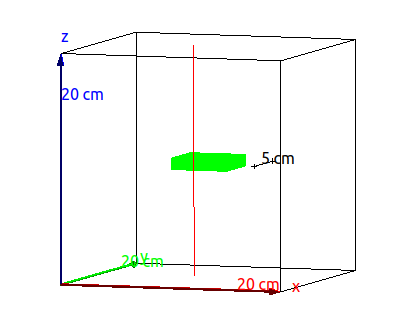 You can see in the screenshot that the reflections are working well, no optical photons are getting out since I've set the reflectivity to 1 on the whole spectrum.
My question would then be: how can I make a hole on the scintillator skin so that photons can get out and hit my scorer? Also, I don't know if this is the right way to do this kind of measurement, any ideas on how to improve this would be great. Thank you.