Hi Everyone,
I am new to Geant and I am trying to simulate the decay of a single Tb160 isotope in air surrounded by lead, in order to produce a gamma ray energy spectrum. I have used the example radioactive decay and example B3 as a template to do this. I used the following macro commands to score, mesh and plot a histogram (using python).
/score/create/boxMesh box11
/score/mesh/boxSize 15. 15. 15. cm
/score/mesh/nBin 30 30 30
/score/quantity/energyDeposit eDep
/score/filter/particle gammaFilter gamma
/score/close
/run/beamOn 20000000
/score/dumpQuantityToFile box11 eDep box31.csv
However, I get the following histogram when I plot the results.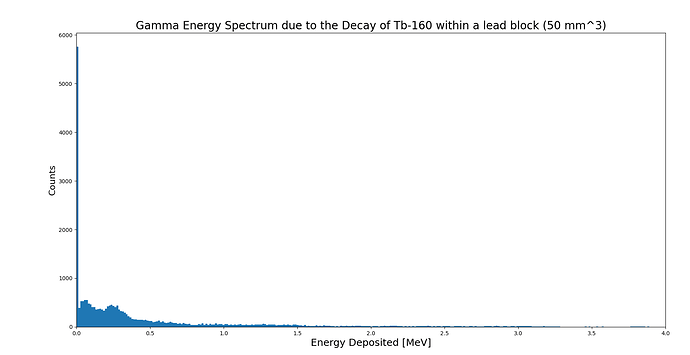 The plot looks very strange for a number of reasons;
-The very large peak at low energies (E<0.1 MeV)
-The very high energy deposition at higher energies (E>1 MeV) which is not at all typical for the gamma spectrum produced due to the decay of Tb160
I have been stuck on this problem for quite some time, so any help would be greatly appreciated.
I have noticed that I placed the scoring manager at the incorrect position in the main (From manual: the method G4ScoringManager::GetScoringManager() must be invoked right after the instantiation
of G4RunManager) and got the following results.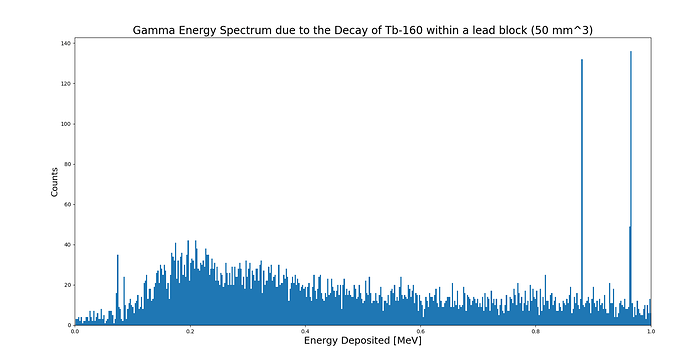 This seems to make a lot more sense as the peaks line up very well to what is expected.
However, when I expand the Energy (x) axis I get the following result.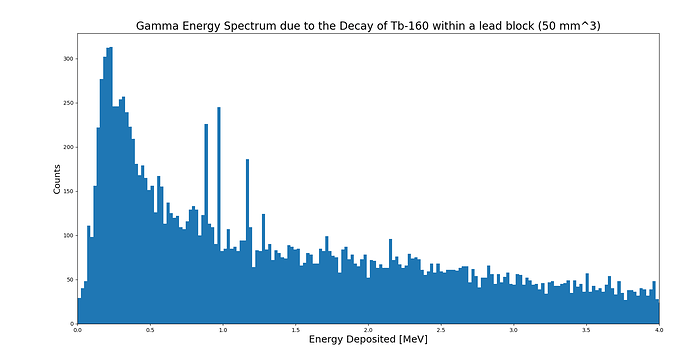 When looking at the csv file that generated the graph I noticed there is a column for "entries". I could not find an explanation about this in the manual, but I can only assume that the energy deposits are being summed because an increase in entries results in an increased energy deposited within a bin.
Is this observation correct?
And if so, would increasing the binning (x,y,z) reduce the increased number of entries within each bin and hence reduce the abnormally large (E>3MeV) energies observed?
Thanks,
Jason.