How would you simulate an irregularly shaped voxel grid, like the red volume in the figure below: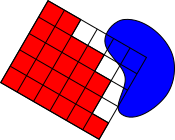 My current implementation consists of a G4Box as the "root" volume, using a G4VNestedParameterisation to assign different materials to the voxels. Empty voxels are assigned the background material (ie air). For scoring, I use a custom class derived from G4VSensitiveDetector.
Now the issue is that I would like that the space of the empty voxels could be occupied by some other volume. I can think of the following options:
Subtracting a chunk from the G4Box root solid.
The documentation says that replicas must completely fill their containing mother volume but it does not say that some of the replicas can be outside. I did a quick check, replacing the root G4Box with a G4Tubs, and it seems to work and pass the geometry checks.

Option 1: subtracting the blue solid. The results which were scored in voxels that were chopped would need weighing to make sense, but luckily I don't need them.

Is there any simple way to check that only empty voxels are affected?

Option 2: subtracting the empty voxels. This seems like a bad idea, unless something inordinately smart is done: the number of empty voxels can be large, and there are lot of matching surfaces. Furthermore, this may end up creating disjoined solids, which is not a valid Boolean composition (side question: what does this mean? Crash, meaningless results?).

Give up on the current approach, and create one physical volume and one detector for each non-empty voxel.
The amount of detectors would be huge, and the per-thread memory footprint would be prohibitive.
Is there any other possibility that I am missing? Any other piece of wisdom you would want to share?