Hi!
I have Geant4 10.7 installed, in a Ubuntu 18.04.6 system, compiled using gcc 7.5.
I'm trying to simulate the gamma emission via neutron activation, I run the example in extended/radiaoctivedecay/Activation, using Co as a target. I simply compiled and run the code, using the mac file Co.mac, without hanging anything.
The G4NDL data are installed (if I remember correctly, I used the command
-DGEANT4_INSTALL_DATA=ON
in the installation process.
My problem is that the output is not consistent at all with what I found in the database. Here you can see the gamma lines i got from the IAEA website (same plot, log and linear scale)

while here the results of my simulations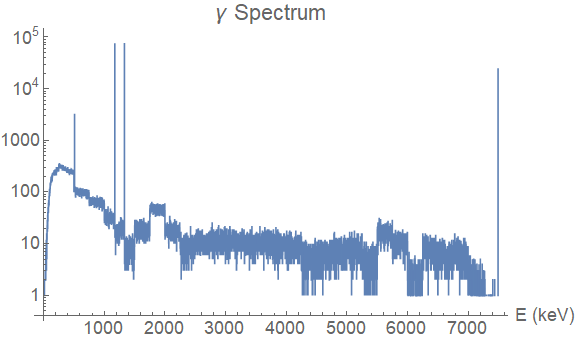 These are completely different, in particular, even disregarding the continuous part of the spectrum (which… I'm not sure if it's physical to be honest…), most of the peaks are not present, and most of the gamma's seem to be emitted at maximum energy, ~7.5 MeV (I'm guessing the peaks at ~1.5 MeV are resonances and they are not gamma's produced via neutron capture). This is even clearer looking at the plots in linear scale: there are some peaks at ~6.8 MeV, even more intense than the one at 7.5, which are completely missing.
Am I doing something wrong? Did someone else had similar results? Thank you very much for your help!