Dear experts,
First, I'm sorry I can't guarantee that I wrote the question in the right category.
I have a problem. I want to use the Cosmic-ray Shower Library (CRY) as my particle source, I think I've connected CRY to Geant4 correctly, but I don't know how to use CRY to emit particles next.
I try to emit particles like GPS's, /run/beam 10, But the following error was reported: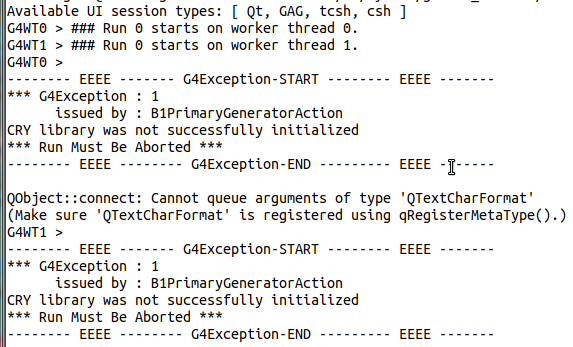 I don't know how to solve the error report content "CRY library was not successfully initialized".
When I used GPS in the past, it was direct setted up in "run.mac" so I can emit the particles I setted.
But for now, CRY is a library that simulates natural cosmic ray showers, and my understanding is that it automatically generates a source of natural particles, but how do I use it? I don't know.
If you know any information or can provide any reference on CRY, I would be very grateful!
My English is a little weak, I hope I have described my problem clearly.Thank you very much!